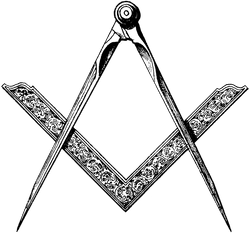 Freemasonry
The world's fraternity
Freemasonry is one of the world's oldest fraternities. It is a society of men dealing with life's spiritual values and who are trying to improve their moral behavior.
Freemasonry has a peculiar system of morality veiled in allegory and illustrated by symbols. By which its members are taught it precepts. Through a series of ritual dramas, which follow ancient forms and use stonemasons' customs and tools as allegorical guides. Through a series of ritual events its members are being taught in the art of edifying themselves and become better, less selfish and more caring human beings.
For many years Freemasons have followed three great principles: Brotherly love, Relief and Truth.
Brotherly love: every true Freemason will show tolerance and respect for the opinions of others and behave with kindness and understanding to his fellow creatures.
Relief: Freemasons are taught to practice charity, and to care, not only for their own, but also for the community as a whole, both by charitable giving, and by voluntary efforts and work as individuals.
Truth: Freemasons strive for truth, requiring high moral standards and aim to achieve them in their own lives.